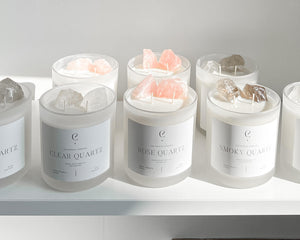 4 Types, 8 Scents
Welcome to our all new Crystal Candle Range, where the power of crystals meets the soothing glow of candles. Hand-poured with love in the UK, each candle in this collection is crafted using 100% vegan natural soy coconut wax.
Choose your crystal and then choosen your scent.
100% Vegan
Cruelty Free
Our Scents
Bay & Rosemary
A fresh, green accord with notes of woody pine and musks complemented by with a hint of citrus atop a delicate, sweet herbal heart.
Coconut
A prominent smell associated with green mandarin, ginger and white rum. with undertones of hibiscus, sugar cane, coconut, fruit punch, frangipani and milk.
Fresh Linen
Clean floral notes of white lily and neroli, hints of ozone and fresh pine needle on a background of sandal and iris.
Lavender
Relaxing sage and lavender soothe the soul carried fluidly by crisp juniper water.
Lime, Basil & Mandarin
A refreshing citrus fragrance where notes of juicy mandarin, lemon and a nuance of lime are accompanied by uplifting basil and thyme with a hint of lemongrass and spearmint. These all rest on a cool moss base with accents of labdanum and vetiver.
Rose
Inhale this lasting fragrance and you can almost picture those blue, cloudless skies. The scent has the sweet smell of roses with hints of fresh-cut grass.
Wood Sage & Sea Salt
A warm sophisticated aromatic fragrance with delicate sage and grapefruit enriched by hints of bergamot and tangerine leading to an invigorating heart of fresh ozone, cool breeze and soft florals smoothed by shades of musk, ambergris and cedarwood.
Unscented
For those who adore the aesthetics of our stunning candles but prefer a scent-free experience, we have the perfect solution. Whether you have allergies or simply prefer a fragrance-free environment, this candle is designed with you in mind.