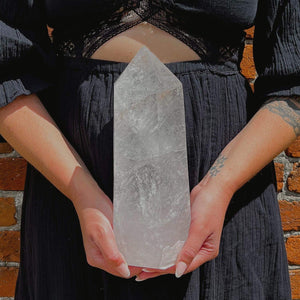 Appreciating you for your continued support.
Ways to Earn
Subscribe to Newsletter
50 Points
Create an account
50 Points
Make a Purchase
1 Point for Every £1 Spend
Enter Your Birthday
50 Points
Follow us on Instagram
50 Points
Loyalty Ties
If you have already reached a tier, your rewards will be with you soon!
Features
Bronze
Silver
Gold
Points Needed
250
1,000
2,500
1 Point for every £1

✔

✔

✔

Crystal Family Chat

✔

✔

✔

Birthday Gift

✔

✔

✔

Digital Healing Cards

✔

✔

Digital Journal

✔

✔

Monthly Zoom Session

✔

✔

Free Shipping

✔

Affiliate access
COMING SOON

✔
In order to join the program, just click "Create a store account". Once you have done it, you are welcome to participate in all actions we have prepared for you to earn points.
You can earn points by completing actions listed in the rewards tab. Just click on "Rewards" tab to see the list of activities available for you to take part in.
You can also earn points by buying products you love from us.
Once you have gained the Bronze tier, you will then be sent an email listing your benefits and a link to join the chat.
If you cannot find this email, please feel free to send us your name and email so we check your eligibility and get an invite to you.