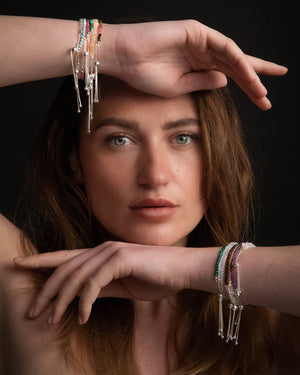 Description
· Manifestation   · Transformation   · Protection
Are you ready to add a touch of otherworldly beauty to your jewellery collection? Introducing the Libyan Desert Glass Raw Bangle, a stunning piece crafted from high-quality 925 sterling silver and featuring a unique 2 stone open bangle design.
But what really makes this bracelet stand out is the exquisite Libyan Desert Glass, the sister crystal to Moldavite and a true tektite with a fascinating history. Formed over 26 million years ago when a meteorite impacted the Earth, this beautiful yellow-green gemstone is believed to possess powerful spiritual properties that can enhance your energy and promote healing.
Whether you're a crystal enthusiast or just looking for a beautiful and unique accessory, the Libyan Desert Glass Raw Bangle is sure to turn heads and spark conversation.
Healing Properties
Libyan Desert Glass is a yellow-green crystal formed from a meteorite impact. It is known for its powerful manifestation properties, amplifying manifestation energy and helping to bring one's desires into reality.
This powerful little tektite will help bring abundance and transform your life for the greater good.
Libyan Desert Glass also promotes spiritual transformation and personal growth, aiding in the release of limiting beliefs and negative patterns. Additionally, it provides protection against negative energy and psychic attacks, shielding the user from harm.
Small = L (us 5.75) - O (us 7.25)
Medium = O (us 7.25) - R (us 8.5)
Large = R (us 8.5)- W (us 11)
UK Shipping
· FREE over £50 (Tracked 48 Hour)
· £2.80 2nd Class
· £4.80 Tracked 48 Hour.
International
· International Delivery from £16 (depends on weight)
· View full details Here
Why shop with us
Rated Excellent
Our customers rate us as excellent on TrustPilot
FAST RELIABLE SHIPPING
Free UK Shipping over £50 &
International shipping from £16
Ethically sourced
We only work with small independent miners who we can trust.
Sustainable packaging
All of our packaging is recycleable and contain water based inc