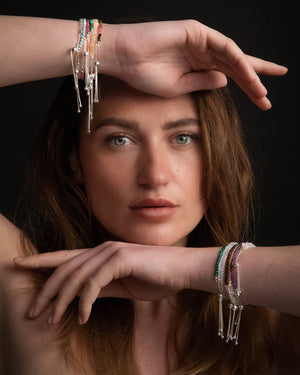 Description
· Spiritual   · Communication   · Strength 
Ladies, listen up! This Tanzanite Raw Bangle is ready to rock your world. This stunning piece of jewellery is perfect for anyone who wants to add a touch of raw elegance to their wardrobe.
Crafted with high-quality 925 sterling silver, this bangle features a raw tanzanite gemstone that's as unique and one-of-a-kind as you are. The raw design of the gemstone gives the bangle a bold and edgy look that's perfect for any fashion-forward woman.
But the Tanzanite Raw Bangle isn't just a fashion statement - it's also believed to have some amazing healing properties. Tanzanite is said to enhance intuition and promote self-awareness, making it the perfect accessory for anyone who wants to connect with their inner self.
Whether you're dressing up for a night out or keeping it casual, the Tanzanite Raw Bangle is the perfect way to add some personality and flair to your look. So, why settle for boring when you can rock this stunning piece and let your inner goddess shine?
Healing Properties

Tanzanite enhances communication skills and self-expression, allowing one to communicate more clearly and effectively with others. It can help to reduce shyness and social anxiety, and promote a sense of confidence and assertiveness.
This gemstone can deepen spiritual awareness and intuition, enhancing one's connection to the spiritual realm. It can help to open the third eye and crown chakras, promoting a deeper understanding of oneself and the universe.
Promotes inner strength and resilience in times of change. It can help to reduce stress and anxiety and provide a sense of calm and balance. Tanzanite is also said to promote courage and determination, helping one to overcome challenges and obstacles with grace and ease.

Intuitively chosen -  These crystals come in all different shapes and sizes. When ordering these crystals, we chose the perfect stone for you!
Born In: Tanzania
Additional Information
| | |
| --- | --- |
| Metal Purity | 925 Sterling Silver |
| Stone Name | Tanzanite |
| Stone Type | Polished |
| Size | Adjustable |
| Treatment Type | None |
| Total no. of Stones(pcs) | 2 |
| Stone Shape | Assorted Shape |
Small = L (us 5.75) - O (us 7.25)
Medium = O (us 7.25) - R (us 8.5)
Large = R (us 8.5)- W (us 11)
UK Shipping
· FREE over £50 (Tracked 48 Hour)
· £2.80 2nd Class
· £4.80 Tracked 48 Hour.
International
· International Delivery from £16 (depends on weight)
· View full details Here
Why shop with us
Rated Excellent
Our customers rate us as excellent on TrustPilot
FAST RELIABLE SHIPPING
Free UK Shipping over £50 &
International shipping from £16
Ethically sourced
We only work with small independent miners who we can trust.
Sustainable packaging
All of our packaging is recycleable and contain water based inc